It's been a long time since we've had a sane President in the USA.
It's been a long time since everyday life was normal (stupid Coronavirus).
It's been a long time since I've written a blog post.
(one of the above isn't really news worthy).
Since I last bothered to write much of a blog post, this is kind of what's been going on in my life …. aside from losing hair and finding my beard is increasingly going grey.
We now have a dog again (well, really since Oct 2019 ish). She's soft and lovely and somehow puts up with almost torture from the children. She likes to bark, take me for walks and stop me from vegetating too much. Unfortunately she's not very good at running. 🙁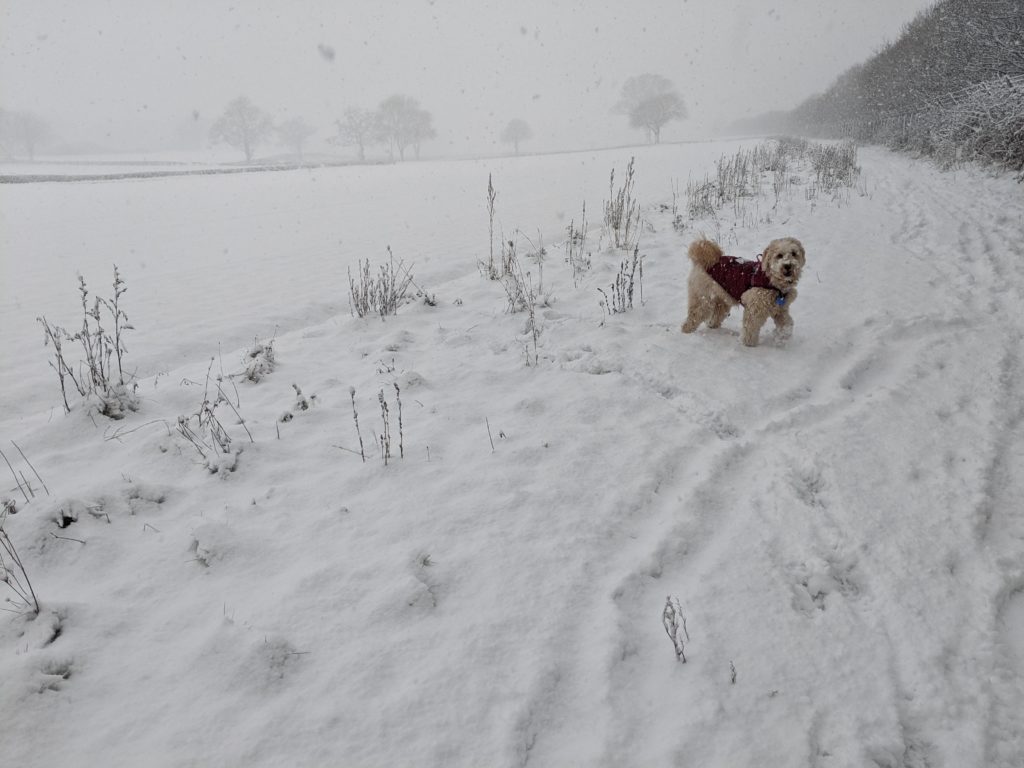 Work wise, I've been working for Orlo (nee SocialSignIn) for the last 4 ish years. I'm a backend PHP developer / sysadmin … and for about the last 6 months I've also been the 'dev team leader' …. which mostly involves managing the development team (and trying to make sure everyone's staying sane during a pandemic). Life there is fun and challenging. Recently I've migrated a significant part of the application from Rackspace to AWS (so touching on things like EC2, CloudWatch, SQS, Autoscale, Load Balancers, VPC Networking and VPNs etc).
Family wise – the children are growing bigger; one's now even a teenager. Our house feels ever more cluttered and smaller and we're still dithering over whether we should convert the conservatory into a normal extension or move to somewhere bigger.
Thanks to the joys of Coronavirus, I'm now sporting a trendy haircut that looks like it really was the result of an accident with a lawnmower.
Open source development wise, I've woken up the Postfixadmin project a bit and finally made a new major release (3.3) and then subsequently tried to deal with the various bug reports (which were kind of inevitable as no one really tests a beta/unstable release).
Technically – eventually I'd like to get time to learn another language (perhaps GoLang) and maybe do some certifications or qualifications (probably around Amazon Web Services – which given I've been using it for the last 4-5 years 'in anger' should be relatively easy).
Currently one of my favourite albums to listen to is The Köln Concert –
https://open.spotify.com/embed/album/0I8vpSE1bSmysN2PhmHoQg
but having said that, I'm quite likely to jump from that to listening to something like Strapping Young Lad or Lady GaGa.
About a year ago, I started reading again in my spare time – mostly trashy stuff via Amazon's Kindle Unlimited – e.g.
Travis Bagwell – Awaken Online series – see e.g. https://www.amazon.co.uk/gp/product/B01J0E8Z8A/
Marko Kloos – Frontline series e.g. https://www.amazon.co.uk/gp/product/B00CIXX144/
James Herbert's Fluke – https://www.amazon.co.uk/gp/product/B0050AM5IA/
Trudi Canavan – Millennium's Rule – https://www.amazon.co.uk/gp/product/B08P5PPW4J
and some even more trashy stuff – e.g. Mark Dawon's John Milton series – e.g https://www.amazon.co.uk/Mark-Dawson/e/B0034Q9BO8